Meal And Sleep Routine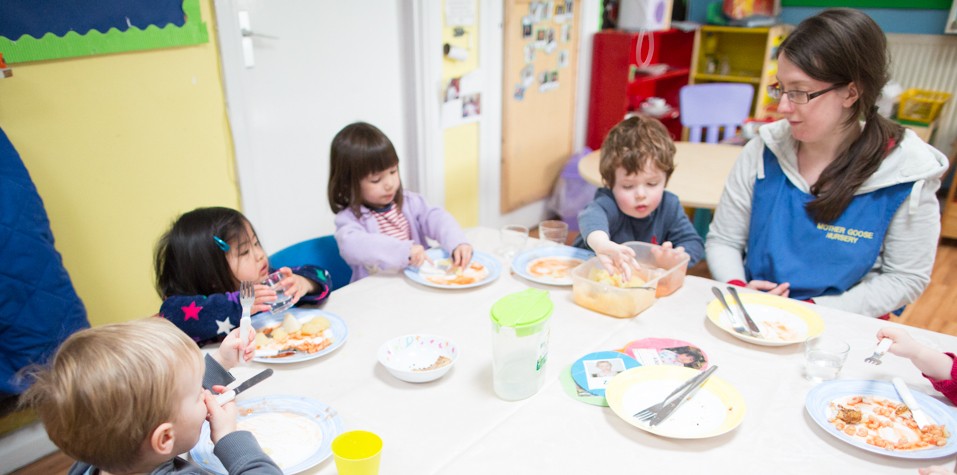 Children Over 2½ Years
8:00-9:00 am

Continuous provisions: breakfast served (these times may vary within branches of Mother Goose)

10:00-10:15 am

Self-Service Snack

12:00-12:30 pm

Lunch

1:30-2:30 pm

Rest/nap; if required

3:30-4:00 pm

Tea

5:30-6:00 pm

Preparation for home time
Children under 2½ years
8:00-9:00 am

Breakfast served as required

10:15-11:15 am

Sleep time; or as required

12:00-12:30 pm

Lunch

11:45-12:30 pm

Lunch

2:30-3:30 pm

Tea

3:30-4:00 pm

Sleep time; or as reqiored
Younger babies will follow their individual feeding and sleeping patterns.
Toddlers will, when appropriate, be encouraged to take a morning or afternoon nap as needed.
Meals are cooked on each of the premises and the menu includes fresh fruit and vegetables on a daily basis.
7 areas of learning
Children's varying dietary needs are catered for, including special menus for children with allergies. Strong emphasis is placed on healthy eating, as we believe that good eating habits start at birth.
Children learn to grow and harvest their own vegetables, which are then used in meals and snacks.